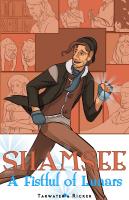 About the Comic
A webcomic and graphic novel about unlucky rogues, conniving gangsters and an underworld full of big plans, bigger risks and bloody consequences.
Shamsee's a small time thief short on common sense. When he crosses The Blighter, a powerful gangster, Shamsee finds himself in debt and in trouble. While calling upon his resources and stumbling across luck both good and bad, the criminal underworld threatens to come out from under him. Business associates, old flames and new flings all want something from Shamsee, and he's willing to give: for the right price. Songs are sung, jobs are blown and blood is spilled in the quest for A FISTFUL OF LUNARS.
Shamsee first appeared in Tristan's 'Valley of Ten Crescents' fantasy novels.
The first chapter, 'A Fistful of Lunars' is 125 pages long and is completely finished. You can come back every week for the newest page or buy it now at:
---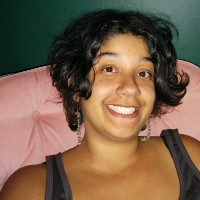 About the Author
Tristan J. Tarwater is a writer of fantasy, comics and RPG bits. Her titles include The Valley of Ten Crescents series, Shamsee: A Fistful of Lunars and Reality Makes the Best Fantasy. She has also worked for both Pelgrane Press and Onyx Path. Born and raised in NYC, she now considers Portland, OR her home. When she's not making stuff up, she is usually reading a comic book, cooking delicious meals for her Spouse and Small Boss or petting one of her two cats. Her next RPG character will most definitely be an elf.
About the Artist
Adrian Ricker is an illustrator and comic artist native to the Portland area. He enjoys creating worlds ranging from fantastical to borderline smutty, and has done a variety of short comics including Gwen and the Green Thief. His favorite mythical creature is the Tengu.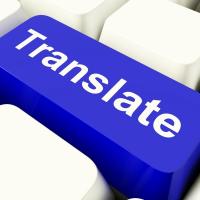 About the Translator
Spanish translation by Juanjo Serrano.